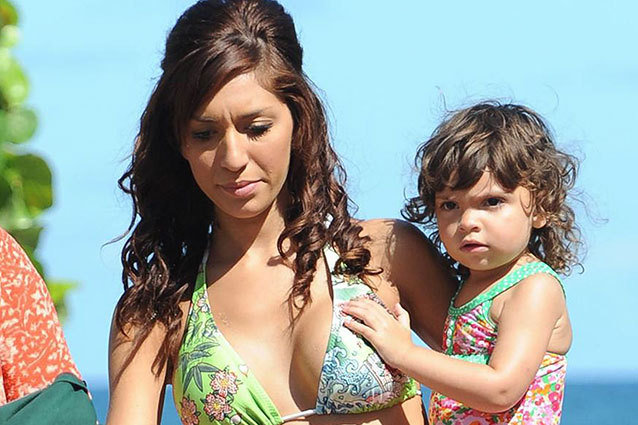 As a feminist and proponent of sex education, I applauded this documentary reality series about the long-term consequences of teen pregnancy when it premiered. Now that word has leaked about a
sex tape/porn video
featuring one of those original cast members,
Farrah Abraham
(and costarring
The Canyons
'
James Deen
)— just one of many signs that stardom has not been kind to these girls — I am questioning more than ever whether the good this show has done could ever outweigh the bad that piles up on its "stars."
I loved 16 and Pregnant when it first debuted on MTV. I thought it was everything television should be: moving, thought-provoking, educational, authentic. It showed young audiences the lives of real girls from many different backgrounds, all struggling with unintended pregnancies. We learned over and over the massive sacrifices — of schoolwork, fun, and future success — that pregnancy and childbirth demanded of teen girls. We saw that the fairytale endings they often envision with their baby daddies do not come to pass since the boys, who are not physically connected to the fetus, often run when things get tough.
When MTV decided to follow a handful of these featured girls through a series, Teen Mom, I thought that was even better. We could see how these girls' lives continued to evolve, for good and bad. We could see that the consequences unraveled over many years. We could have one more compelling, memorable reminder, week after week on a popular national television network, that birth control is essential and awesome. All the public service announcements in the world, I thought, could not do what 90 seconds of this television show could do.
I commended the girls who agreed to be featured, who allowed this continued invasion of their privacy to share with others what they'd learned. As a reporter, I even visited one, Maci Bookout, who struck me as articulate and responsible, and wrote about all of the four original Teen Moms for
Entertainment Weekly
.
I have since changed my mind about the show, or at least wished that MTV had ended the series after a season or two, tops — maybe if we'd gotten them off the air a little quicker, the gossip-mag attention would've been lessened. Perhaps because these girls opened up their dramatic personal lives so completely, they have grown into tabloid monsters. And probably because they weren't terribly well-off in life to begin with, they're particularly vulnerable to the worst of the fame machine. I've long disputed the idea that this show is detrimental for "glamorizing" teen pregnancy. If you watch at least five minutes of it, you'll see no hint of glamour.
Quite frankly, the "glamorous" aspects their lives have since taken on, due to their status as "stars," look harrowing as well: Their role in the show has wrought not movie deals nor fashion-magazine covers. It has wrought, apparently, porn shoots, endless tabloid shots, and highly publicized arrests.
There's a lesson here. Even the best-intentioned producers must be careful with where they point their cameras and spotlights. The most interesting "reality" subjects are also often the most vulnerable, and you can't control what happens to them outside the shooting schedule and editing room.